Welcome to District Institute of Education & Training, Sivasagar, Sonari
DIET plays a vital role in teacher professional development, school support and improvement. The vision of DIET, Sivasagar, Sonari is to provide a platform in the district where learning takes place in a student friendly atmosphere. It also aims at conducting research and experiment for meeting the diverse needs of the learners. It also sets to plan and conduct innovative class room transaction to maximize learning outcome.
The Vision is to develop creative and resourceful teachers and provide academic support to the grass-root level and build a linkage among the various govt. and non-govt. agencies, departments, working for elementary education for achieving the targeted objectives.
The main aim of education is the holistic development of the learners. In order to maximize student learning a collaborative learner centered environment in mandatory where the teacher, student, community and authority can focus on student achievement. The DIET as a teacher educational institution works for the holistic development of teacher.
---
History of Diet Sivasagar
District Institute of Education & Training (DIET) was established as per recommendation of the National Policy of Education, 1986 as a support structure of the district to enhance and upgrade the elementary education system. As a government supported educational institute, DIET's pivot purpose is to work for the all round development of the Elementary Education viz. school development & teacher development. Since its birth, DIET is conducting innumerable training programmes , seminars, workshops, research and study material designs to give ample support to develop teacher's competence.

In Assam six DIETs were established in the first phase way back in 1989, in the second phase five DIETs were established while seven more were established in the 3rd phase i.e. 1996. DIET, Sivasagar, sonari, was established in the 3rd phase in the BTC Campus. Later on 17th January 2007, the Institute was shifted to its new campus adjacent to BTC Campus. The present Institute comprises three blocks viz. Administrative Building (Block A), Academic cum staff building (Block B) and classrooms (Block C).

The geographical location of DIET, Sivasagar, Sonari –
It is situated under newly declared Charaideo district (previously a part of undivided Sivasagar district) in Bhojo, which is about 5.5 km away from Sonari town of district H.Q. and 52 km away from Sivasagar. To its north lies Bagariguri village, to the south Balijan village, to the west Sonari-Moran PWD road to the east stands the Ratanpur Tea Estate. Behind the Institution lies the warrior training field of the Ahom army. This spot has been protected by the local administration as well as Geological Survey of India as heritage site at present, which bears the rich history of the mighty Ahoms.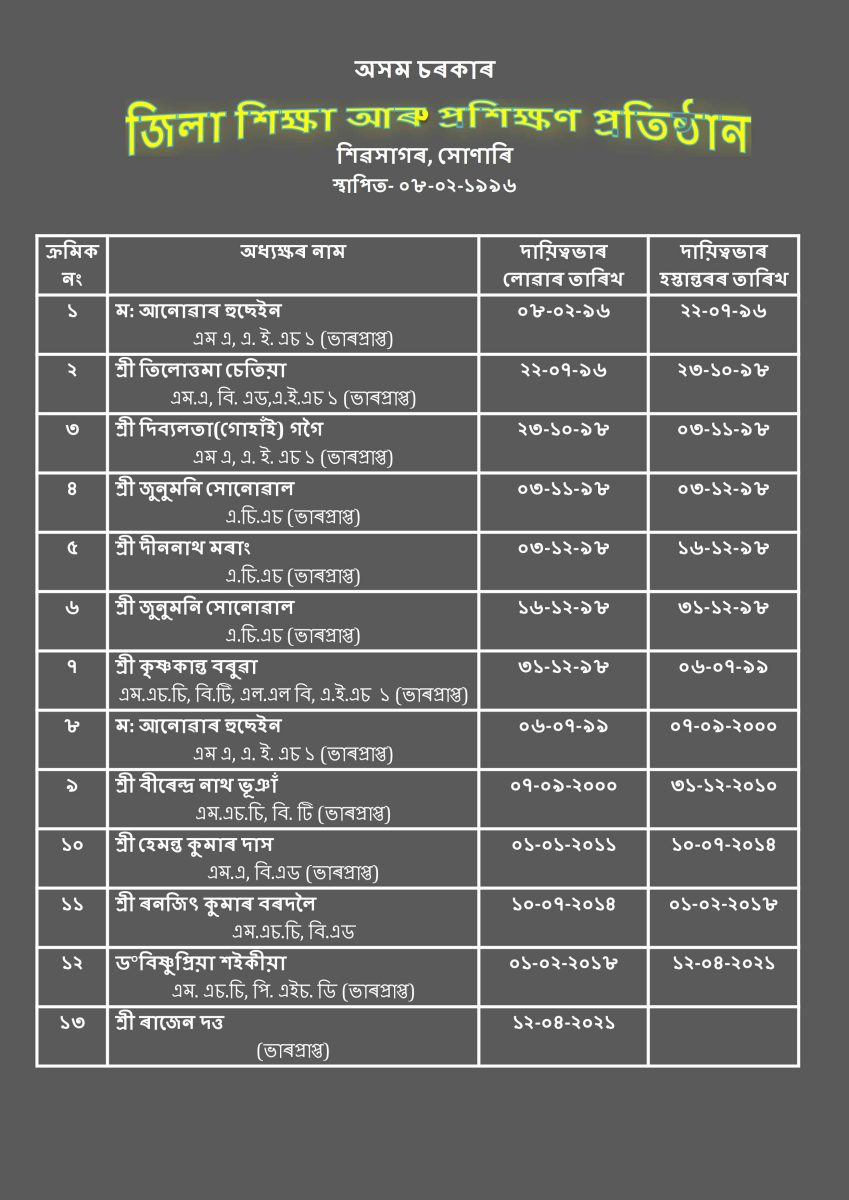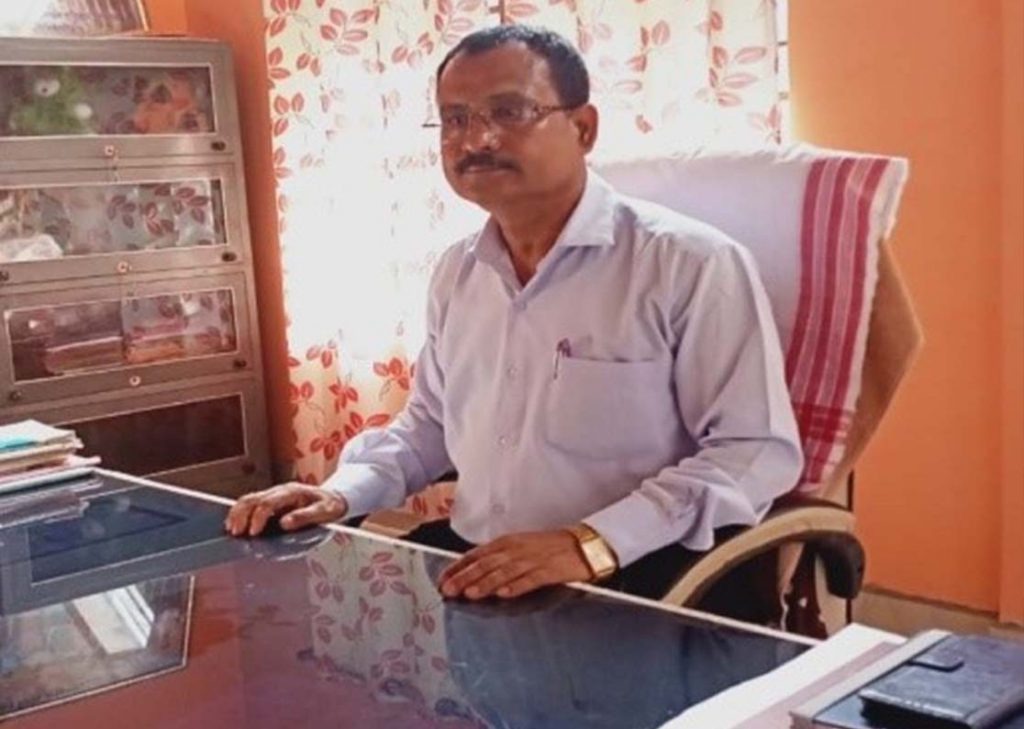 From the Principal's Desk
The District Institute of Education and Training (DIET) were established as a pivotal part of the larger mission of achieving excellence in education in India. As a part of mission, DIET, Sivasagar, Sonari has rigorously been involved in imparting training and orientation to the teachers both in pre-service and in-service education, developing resource supports such as extension, guidance, materials, teaching aids and tools etc. and conducting action researches in the district of Sivasagar and Charaideo. The changing global scenario exerts the Indian education system to be more flexible, holistic, experimental, integrated, learner entered and discussion based so that critical thinking and problem solving capabilities can be inculcated among students. Our institute is deeply dedicated to adapt with such changes. Our faculties commit to bring out efficient and capable teachers to meet the demands of current education scenario. Apart from this, we work closely with the various allied institutions, social workers, NGOs etc. to develop a collaborative approach to fulfill our vision and mission. We hope to build a competent educational system, attributed to high quality, equity and integrity in the districts of Sivasagar and Charaideo.